My husband had a Weimaraner as his Kappa Alpha Fraternity house dog in the 1950's. At that time they were touted as the "wonder dogs"… they found the birds, retrieved them, cleaned them, cooked them, served the dinner and did the dishes. This was the beginning of the down years for the Weimaraner, too much of a good thing.

After several poodles, we got serious about another Weimaraner, our sons were getting interested in hunting. Our oldest son, Jimmy, bought Dixie with all his savings, $125.00. In desperation, to save my house from total destruction, I took her to obedience classes at OTCPBC. We won first place and I was hooked….40 years later I am still at it. Dixie was my practice dog, and we did have a good time. I decided that if I was going to spend all day at the shows I wanted a Weim that I could do everything with. I loved Bill Meyers' Ch Sandstorm Travis McGee and waited until a bitch we liked was bred to him. I found the perfect puppy, bred by Barbara Didjurgis. Eb's Weimaraners, and I did EVERYTHING with her and became totally involved in the world of dogs. My friends used to tell me, "Just put Breezy in her crate with the book, in the morning she will know how to do it"; she was that kind of dog. That was my foundation bitch, Ch EB's Ketch a Summer Breeze, CDX, TD, RDX, SDX, VX…..hence my kennel name, Seabreeze.

To date, there are over 60 bench champions bearing the Seabreeze name, including 1 CH/OTCH, and 4 Grand Champions.  Many also earned obedience, hunting, rating, agility and tracking titles, including the first dog to be awarded the AKC VCD title, Ch. Seabreeze Seraphim, CD,OA,OAJ,TDX,NRD,VX, as well as Ch. OT Ch Eb's Red Hot Seabreeze, JH, UDX,NA, NRD,VX, the first Weimaraner bench champion to earn an Obedience Trial championship, and she is still in the Top 10 for Obedience.

I have been very fortunate that Judy Colan trusted me enough to let me have a daughter from Fergie (Ch. Aria's Allegra of Colsidex). Annie (Ch. Colsidex Seabreeze Bet the Farm, TDX), was almost the perfect dog and we have some wonderful puppies and grand-puppies from her; one of which was the No. 1 Weimaraner for 2006-2008.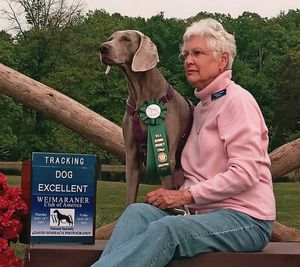 I am a member of the Weimaraner Club of America and was a member of the Board of Directors for 16 years (half of that time serving as Secretary). I also served as Chairman of the Ways and Means Committee for the WCA for over 20 years and currently are on the Hall of Fame Committee. Thanks to my right hand & co-breeder, Debbie McCray, we have done the trophies and merchandise from 2000-2014 & 2016 for the WCA National Specialties. Weimaraner people are a wonderful friendly group and very supportive of each other. I have been a member of the Obedience Training Club of Palm Beach County since 1975. As a member of the Jupiter-Tequesta Dog Club for over 30 years, I have held most offices except President. I am also a member of the Weimaraner Club of South Florida, Gulf Coast Weimaraner Club, Mid-Florida Sporting Dog Association, and National Association of Canine Scent Work (NACSW).

I have a Weimaraner and a Standard Poodle living at my house and lots of Weims that I co-own, living in wonderful homes. I can honestly say, I have never had a problem co-owning a dog, and after all these years I still love the sport of dogs and the people involved. 

AKC Breeder of Merit
Weimaraner Club of America Life-time Achievement Award - 2015
Palm Beach County Animal Care & Control Hobby Breeder Permit No. 1FHB-08-P1125791 
My background in the dog world started in the early 1970s showing my Cocker Spaniels in obedience. During those years, my traveling companion was Marge and her wonderful Seabreeze Weimaraners. In 1995, she gave me my very own Weimaraner …..I was hooked for life. I am honored to be a part of Seabreeze.

My current dog family consists of two Weimaraners. We occasionally have a litter of puppies and those puppies are raised in our homes as part of our family until they go to their forever homes. It is so rewarding to see these puppies thrive with their new families. The good friends and extended family we have as a result - is an added bonus.

We have many lovely Weims bearing the Seabreeze Colsidex or Colsidex Seabreeze prefix. We are so lucky to be co-breeding and co-owning with Judy Colan and her Colsidex Weimaraners. If the kennel name starts with Seabreeze, (then Colsidex), the puppies were bred in Florida…if the name starts with Colsidex (then Seabreeze), the puppies were bred in Rhode Island.

Take a few minutes to wander through our website. There are lots of photos that will make you smile…….

AKC Breeder of Merit
Palm Beach County Animal Care & Control Hobby Breeder Permit No. 1FHB-08-P0294034

Memberships in Good Standing
• Weimaraner Club of America (WCA) – Member since 1995 (Treasurer of the National Show Account 2000-2012 & 2016)
• Weimaraner Club of South Florida (WCSF) – Member (Treasurer since 1995)
• Gulf Coast Weimaraner Club (GCWC) - Member since 2011
• Jupiter Tequesta All-Breed Dog Club (JTDC) – Associate Member since 2005
• Mid-Florida Sporting Dog Association (MFSDA) – Associate Member since 2017
• National Association of Canine Scent Work (NACSW) - Member since 2017-2018